The automatic high-level palletizer will loaded material into a container (such as a carton, a woven bag, a bucket, etc.) or a packaged and unpackaged regular item, placed on a tray according to a certain arrangement code, and automatically stacked. The stacking is multi-layered and then pushed out to facilitate further packaging or forklift trucking to the warehouse for storage. The palletizer realizes intelligent operation management, which can greatly reduce intensity. It is widely used in powdery and granular materials in petrochemical, food, medicine, feed, grain, non-ferrous minerals and building materials industries, automatic palletizing with a certain volume of articles and automatic high-speed palletizing of various cartons.
1: Adopt high position into the box, suitable for high line conveying.
2: Adopt linear coding, the production speed is fast, the highest can reach 60 cases / minute or 28 bags / minute
3: It can realize any multi-channel sub-boxing by servo channel, which is suitable for various types of box and coding. It is not necessary to make any mechanical adjustments to change the box type and coding type time-division mechanism, just select the box type on the operation interface. It can be used to change the variety when it is convenient to produce. The servo separation is stable and stable, and it will not impact the cabinet and protect the appearance of the cabinet to the utmost.
4: The rotation of the cabinet is realized by the speed difference. Compared with the gearbox, the rotation will not impact the cabinet and will not damage the appearance of the cabinet.
5: The machine has low power consumption and saves operating costs.
6: No pressure inbox, no extrusion.
7: It can adapt to multi-box and multi-encoding type, and the conversion speed is fast (the production variety can be completed within 25 minutes).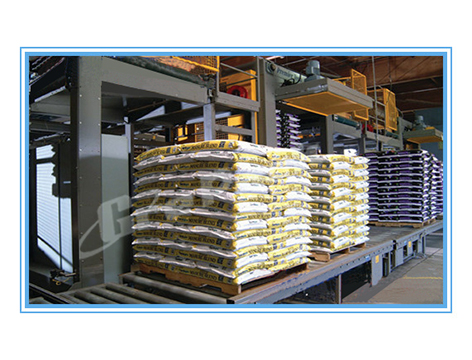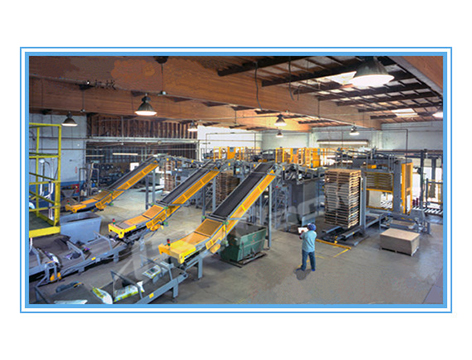 1: The finished box is input from the single conveying line, and the sub-tank (servo control) and steering (speed difference control) are completed on the conveying line, and sent directly to the marshalling station, and pushed to the conveying board by the push rod.
2: Through the automatic control of the counting and photoelectric induction, the push bar pushes the case onto the transfer board, and the box is arranged in a neat layer, and then enters the pallet.
3: The pallet lifting frame is at the highest position at the beginning of palletizing, and then descends by one layer after each layer.
4: The storage fascia (also known as the pallet) is automatically distributed to the palletizing station, and there is a waiting slab before the palletizing station. After waiting for the finished stack output, follow the entry pallet station, the machine The palletizing speed is fast, and there are two finished storage positions on the output conveyor.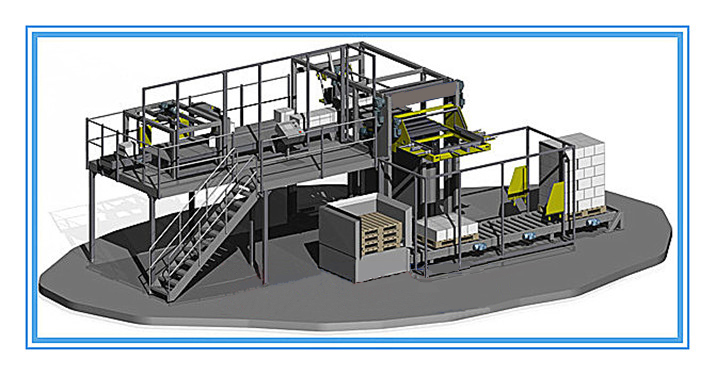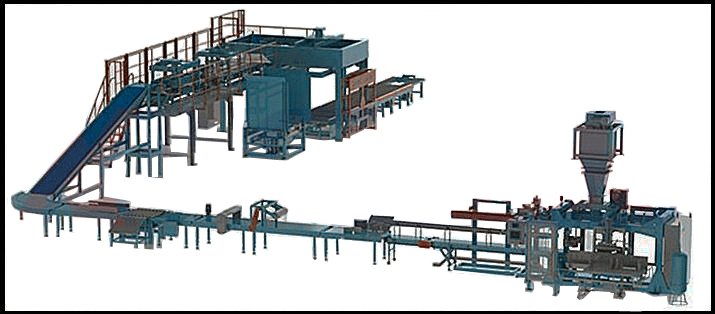 Type:
HC-MD02
Voltage/power:
380V??50/60HZ? 13KW
Applicable:
Large bags of fertilizers, feed, flour, rice, plastic pellets, seeds, washing powder, etc.
Applicable pallet:
L1000-1200mm*w1000-1200mm(can be customized )
Pallet speed:
800-1600 bag/h
Pallet height:
1300-1800mm(can be customized)
Air pressure:
6-7kg
Dimension:
13000*3500*3200mm